Nouvelles News
Added Apr 30, 2018
Bientôt, mon tour des expos en France va commencer. Je suis déjà en train de préparer mes valises. J'ai été obligée d'annuler mon exposition à Meximieux, mais les deux expositions à Fleurie et à Vitteaux se dérouleront comme prévu.
Pour aller à Fleurie, ca sera un peu compliqué. Il faut prendre le train à Belleville, et après, il n y a pas de bus. Il faut prendre un taxi. Donc, si vous connaissez une personne à Lyon et alentours ou vous vivez à Lyon et vous trouvez le temps, pouvez m'aider avec le transport de mes toiles à Fleurie ? Je vais payer pour l'essence et vous donner une toile comme cadeau. Aussi pour transporter mes toiles à Vitteaux, j'ai besoin votre aide. Les bus de Dijon à Vitteaux ne sont pas trop fréquents. Je vous remercie de me contacter très vite.
Very soon, my exhibition tour will start in France. I am already preparing my suitcases. I had to cancel my exhibition in Meximieux, but the two exhibitions in Fleurie and in Vitteaux will take place.
For going to Fleurie, it is a little bit complicated. One has to take the train to Belleville, and afterwards, there is no bus. The only option is taking a taxi. So, if you know a person in Lyon or you live in Lyon and have time, can you help me with the transport of my paintings to Fleurie? I will pay for the petrol and I will give you a painting as a gift. Also for transporting my paintings to Vitteaux, I would need your help. The buses from Dijon to Vitteaux are not very frequent. Thank you for contacting me as soon as possible.
Une exposition pleine de spiritualité indienne
Added Apr 23, 2018
Article Le Dauphiné Libéré 17-09-2017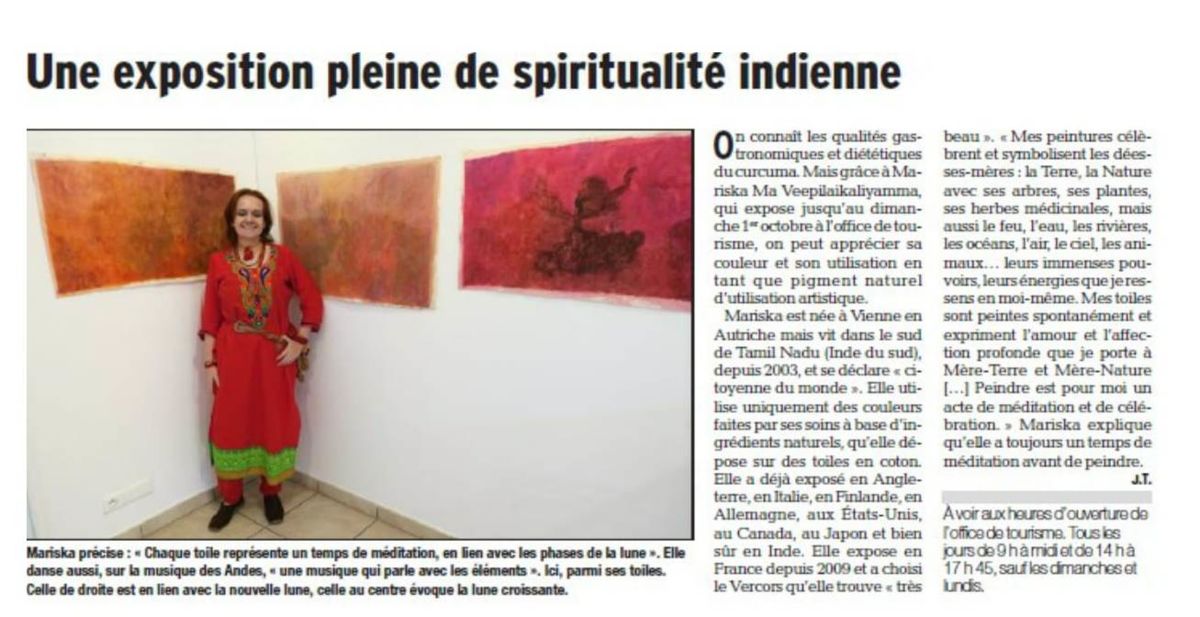 Les toiles de Mariska célèbrent la Nature
Added Apr 22, 2018
Article La Provence par Delphine Le Mouel mai 2010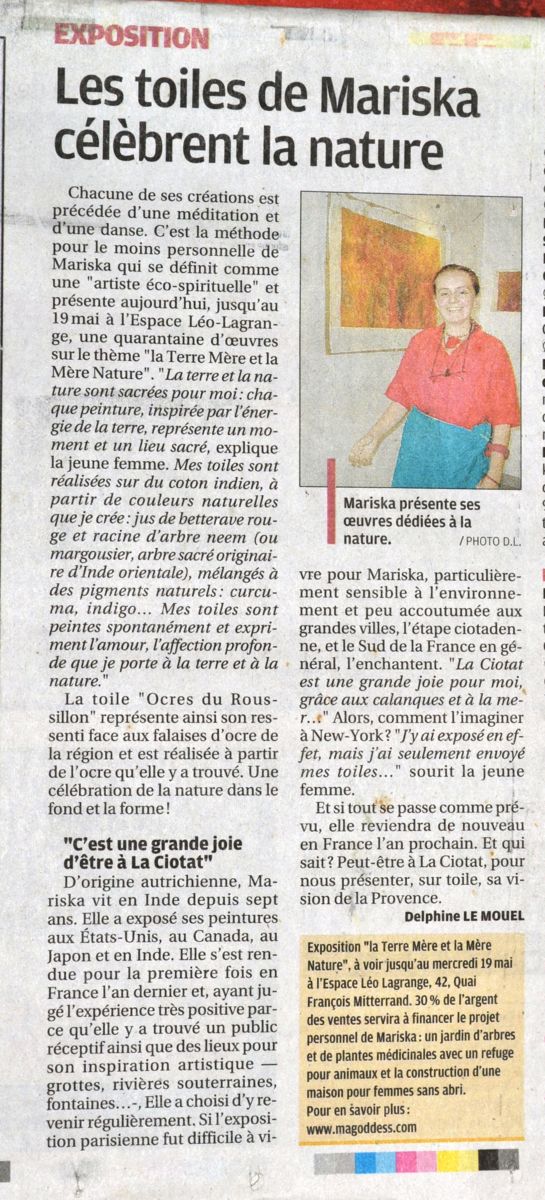 Une peinture au plus naturel
Added Apr 22, 2018
Article La Marseillaise mai 2010
Manjcal, Kunkumame oviyattin niramaam
Added Apr 22, 2018
Article Dinamalar Madurai par Dhanalakshmi, 24-9-2006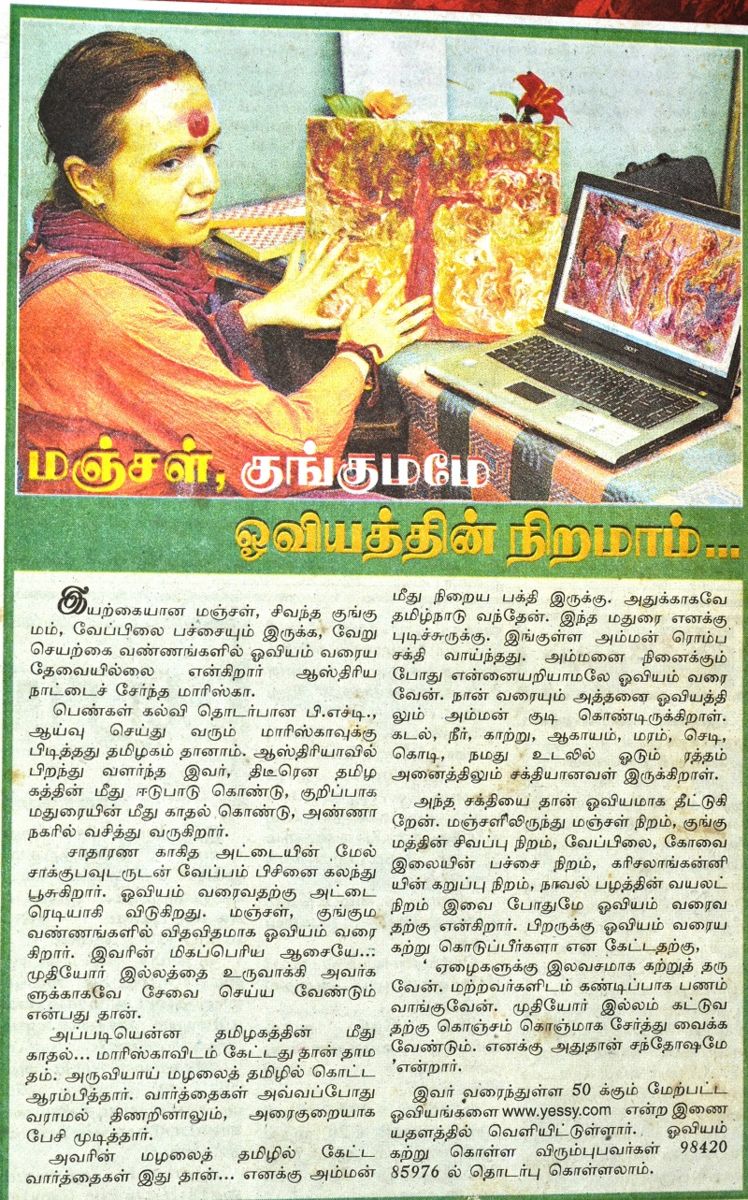 Video-Invitation Art exhibition tour France 2018
Added Apr 19, 2018
My art exhibition in France 2018 will start very soon, actually in May 2018. And here comes the video-invitation!
My beloved Neem Tree Mother is the great inspiration for my art. In this video, I show you my Neem Tree Mother in Tiruppalai, Madurai. I visit her every day, for a meditation, receiving her healing energies, her protection, her blessings and finding inner peace. My friend Selvi has also come, she accompanies me every day. She rests with a house guard and we are friends since a very long time.
Vidéo-invitation Tour des expos France 2018
Added Apr 19, 2018
Mon tour des expositions en France 2018 va commencer bientôt, en mai 2018. Ici, la vidéo-invitation !
Ma Mère de l'arbre Neem bien-aimée est la grande inspiration pour mon art. Dans ce vidéo, vous pouvez voir ma Mère de l'arbre Neem à Tiruppalai, Madurai laquelle je visite chaque jour, pour faire une méditation, recevoir son énergie guérissante, sa protection, ses bénédictions et retrouver la paix intérieure. Mon amie Selvi est aussi venu, elle m'accompagne chaque jour. Elle reste chez un gardien et nous sommes des amies depuis assez longtemps.
Tour des expos France 2018 ! Art exhibition Tour France 2018 !
Added Apr 17, 2018
Bientôt, mon tour des expos en France 2018 va commencer. Demain, je vais vous presenter un petit film comme vidéo-invitation pour mes expos.
Very soon, my art exhibition in France 2018 will start. Tomorrow, I will present you a film as video-invitation for my exhibitions.